Our road to 100% SUSTAINABILITY .
Since the beginning of MUDMASKY® we have set our ambitions on producing fair skincare all while supporting and cherishing the environment and continuously looking for new ways to reduce our carbon impact. Now, we have grown a bit overtime, we have moved offices and have more lovely faces to make glow, we strive even more for fair, transparent and sustainable skincare.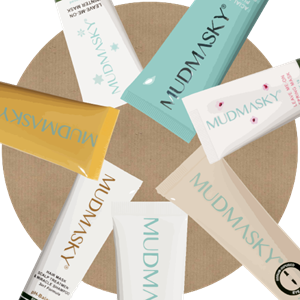 PACKAGING
We use partly recycled tubes, per tube it differs, it can differ up to 60% which is PCR plastic, and we are striving to have 100% recycled PCR plastic tubes. Furthermore, we use 100% recycled packaging paper. Whenever we pack your order, we use packing paper which is more sustainable than your usual packing materials such as Styrofoam. And latest addition to our consciously packaging chain is our shipping box which is made out of grass cardboard. This is 100% made out of freshly mowed grass.
INGREDIENTS
Over 95% of our ingredients are sustainably harvested and since March 2019 we do not fly in our ingredients. And as many of you know us from, absolutely nothing we use in our products or just our products as a whole are tested on animals. We are PETA-certified.
INTERNAL USE
All of the vehicles we dispose are 100% electric. This means that we do not use vehicles which do not directly cause for carbon emissions other than the delivery service we use for your order. Furthermore, we use FSC-certified paper for everything we need to use paper for. This paper is from sustainably managed forests. We also try to communicate as much through online communication instead of using (excessive) paper.
SHIPPING YOUR PACKAGE GREEN
We post packages with PostNL. This is the most sustainable logistic transporter in Europe according to the Dow Jones Sustainability Index (DJSI). Rapport by RebecoSAM.
Follow our road to a greener MUDMASKY®
As you can see, we are committed to reduce ways of bad impact on the environment and try to support it by making different choices only that are less damaging or even supportive for the environment. If you have any recommendations, questions or like to discuss, feel free to contact us.